RIAD FOUNDATION PRESENTS A TALK ON
ARTS IN EDUCATION 'ILLUMINATING the BACKSTAGE'
23-24 January 2016
04-07pm, Entry FREE
VENUE: Head Start Montessori House of Children
32(P), 16th Main Road, 4th Block, Koramangala, Bengaluru 560034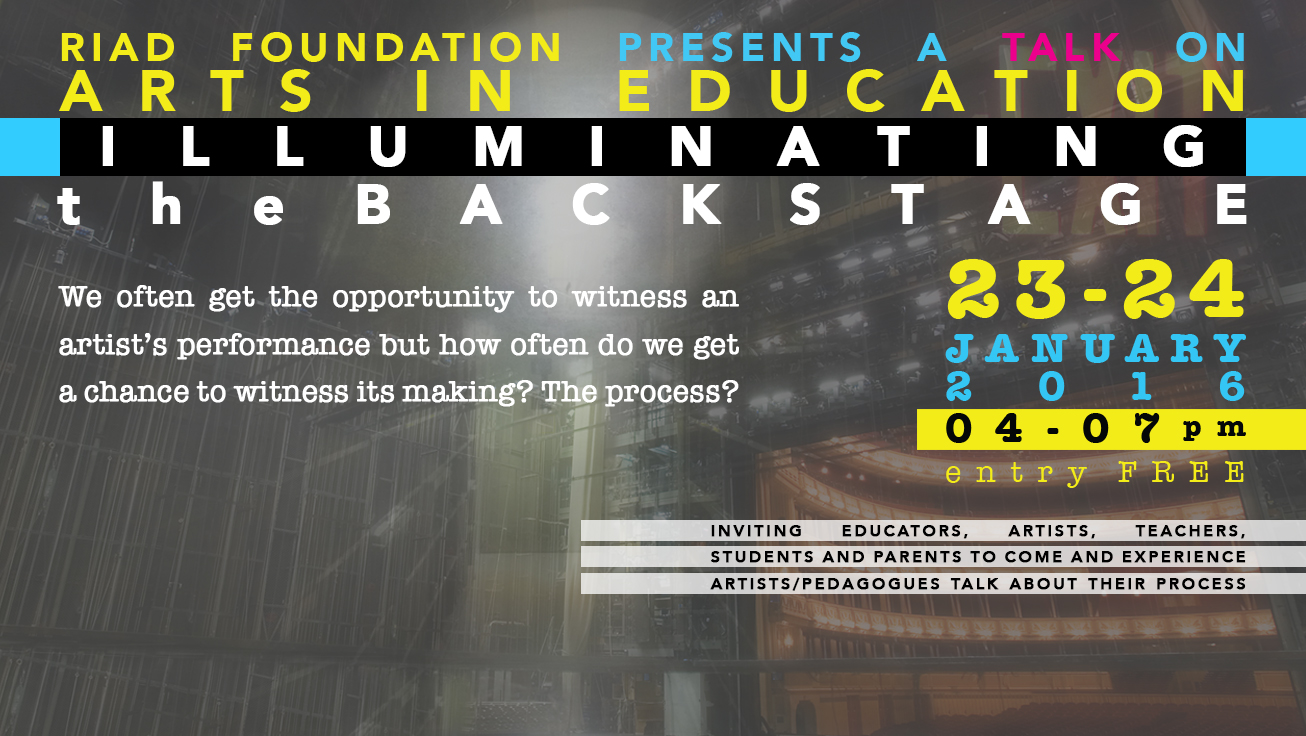 Inviting educators, artists, teachers, students and parents to come and experience artists/pedagogues talk about their process and how they examine or integrate their respective art forms in school education, holistic learning, social awareness, human expression and more.
RSVP to block a seat:
riadfoundation@gmail.com or SMS +91 96366 63366
DAY 01 JANUARY 23 SATURDAY, 2016
Jan 23: TALK 01 AMEEN HAQUE Founder, Storywallahs


Ameen used to tell stories, earlier as an ad "wallah" and then as a theatre "wallah"; now he works with the oral narrative form and applies it to education and business.
The Role of Stories in Sex Education, Ameen Haque
Harnessing the power of stories to make sex education conversations in the classroom meaningful through the journey of their attempt to create a story based curriculum for sex education.
Jan 23: TALK 02 FRANCOISE BOSTEELS Doll Maker



Francoise Bosteels, of Belgian origin came to India in 1974 and works in holistic health education and social awareness through her artistic expressions.
The Dolls Speak – Everyday Life of Everyday People, Francoise Bosteels
The Dolls are human representations expressing and imbibing their stories. The dolls show us around and give us a deeper awareness of the India of the excluded, and the marginalised.
Jan 23: EXHIBITION Francoise Bosteels' The Dolls Speak
An exhibition of Francoise Bosteels' Iconic Dolls along with the stories that have inspired their making.
DAY 02 JANUARY 24 SUNDAY, 2016
Jan 24: TALK 01 ABHIJEET TAMBE Musician



Abhijeet is a singer-songwriter, who in his latest set of songs, has planted the spotlight firmly back upon himself and his close relationships.
Building A Song: One Approach (Among Many), Abhijeet Tambe
Writing a good song is part inspiration and part engineering. Let's talk about the engineering.
Jan 24: TALK 02 CHANAKYA VYAS Facilitator & Pedagogue – Theatre Department at Head Start Educational Academy


Chanakya Vyas is a playwright, actor and director based in Bangalore. He is the Associate Director at Indian Ensemble and also teaches at the Head Start Educational Academy.
Oral History & Performance in Arts Education, Chanakya Vyas
The presentation will look at the way in which oral history can be combined with theatre practice to create new classroom exercises and engage with new forms of pedagogy.
Jan 24: EVENT KAAVAD KATHA MAYA
The Kaavad project by Sva Collective
The Kaavad project is an attempt to bring together artists from varied fields that include story-tellers, theatre artists, visual artists, musicians and designers to create inspired work through the contemporary revival of  Rajasthan's folk art, Kaavad katha.
RSVP
riadfoundation@gmail.com or SMS +91 96366 63366
Contact
riadfoundation@gmail.com
Priyanka +91 96366 63366
Subhashim +91 96777 08157