RIAD FOUNDATION PRESENTS
ILLUMINATING THE BACKSTAGE 02
'CYCLICAL NATURE OF THEORY & PRACTICE
IN SCHOOL EDUCATION'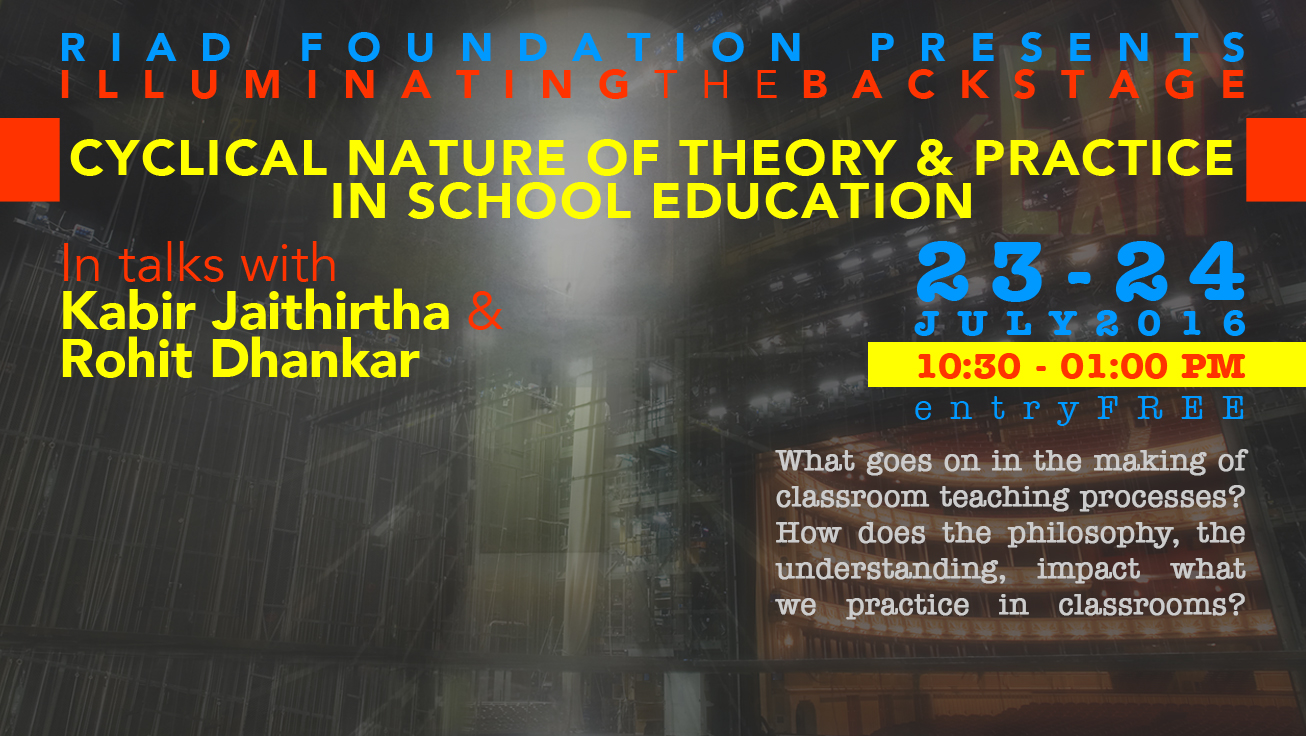 23-24 July, 2016
10:30 am to 1:00 pm, Entry FREE
VENUE: Lahe Lahe
No.2906 & 2907, 80 Feet Road, Kodihalli, HAL Stage II, Indiranagar, Near BSNL compound HAL 3rd Stage, Kodihalli, Bengaluru, Karnataka 560078
What goes on in the making of classroom teaching processes? How does the philosophy, the understanding, impact what we practice in classrooms?
Inviting all educators, teachers, students and parents to join us for a dialogue with:
23rd July, 2016
Kabir Jaithirtha, Teacher at Shibumi
What is a Learning Mind
What, if any, is the relationship between learning and the acquisition of knowledge? Do schools nurture a learning mind?
24th July, 2016
Rohit Dhankar, Director of School of Education and Academic Development, Azim Premji University, Bangalore
Moral Dimensions of Education
This talk will draw attention to three aspects or moral dimensions of education:
The necessity of moral aims of education and what could they be
The moral aspects of practice of education
Self-reference in moral development and its implication on moral education.
Examples from every day educational activity shall illustrate the points mentioned above.
RSVP
riadfoundation@gmail.com or SMS +91 96366 63366
NOTE: It is mandatory to send a R.S.V.P. to confirm your seat. Please ensure to mention the dates of attendance and number of seats to be blocked.
Contact
riadfoundation@gmail.com
Priyanka +91 96366 63366